ESG

Management simplified


We think ESG and sustainability is already complex enough. That's why we support you with an ESG-Cockpit that contains various sustainability systems to simplify the process of applying them to your own assets.
Our goal is to improve your sustainability performance to remain successful.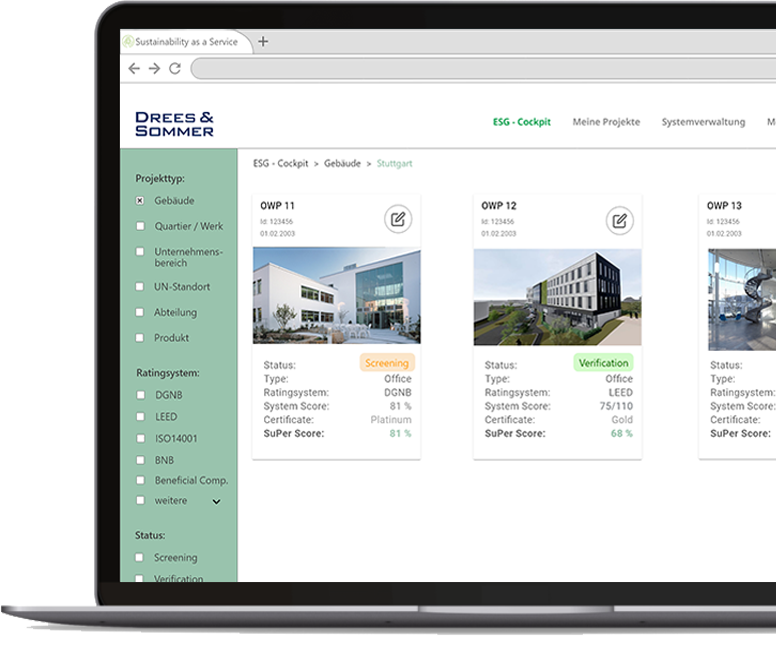 Customized to your industry & task areas
Sustainability strategy & reporting
Get a comprehensive view of your company and identify opportunities and risks in your industry through holistic ESG management. Benchmarks also help you determine how you measure up against your competitors.
Transparency regarding sustainability is an important factor in ensuring that the green commitment is not watered down. Whether corporate reporting according to GRI, green building certifications, cradle to cradle or energy and environmental management. We support you.
Buildings & Infrastructure
The right ESG strategy for you
As a result of the Paris Climate Agreement and the 2030 Agenda (SDGs), numerous, in part complex and far-reaching regulations have been created for various market stakeholders. In order to continue to act legally and compliant in the future and meet the ESG criteria required by the EU.
The sustainability megatrend requires adapted or new business models. At the same time, it creates great opportunities. With our future-oriented consultancy, we take an all-round view together with you and accompany you from the quick check to the strategy development and implementation up to the reporting on your way to becoming a successful pioneer in the sustainability field.
Circular, useful & low in CO2 emissions
To realize sustainable and livable cities, you need circular buildings and products with materials and chemicals that are healthy for people and the environment. With our expertise, we will help you optimize the entire product cycle according to the Cradle to Cradle design principle
Optimized products do not only improve the indoor climate and are recyclable, but are also produced in the best possible way with renewable energies and under social conditions. This protects our climate and the environment, creates social added value and makes each of us part of the solution by buying these products.
ESG Consulting & Management
Analytics, Strategy, Implementation & Reporting
Be it a business model, product design, portfolio strategy, or real estate and infrastructure project - together with you, we get an overview of the status quo. Before we accompany you on the path to a sustainable, ESG-compliant future (>> Path 2050), the starting point of the journey should be clearly defined.
Whether it's a short trip out into nature or a circular tour around the world, we'll show you the diversity of solutions for a sustainable future while always keeping things on the ground. Our experts know the challenges of your industry and have the right technical solution in their pockets.
Our solutions for your sustainability transformation
Register now and don't miss any news about the SuPerTool!